The traffic from my home to office is always horrible. Being stuck for 1 to 2 hours on the road is normal. I have found a more enjoyable way to endure the long journey - watching good movies on my phone. I know I know... this doesn't comply with good road safety behaviour.
One of the movies I've watched is 'Under the Tuscan Sun'. The story was okay, a romcom but its setting, filmed against the backdrop of beautiful Tuscany, was the real attraction. The synopsis:
"Frances Mayes (Diane Lane) is a San Francisco writer whose seemingly perfect life takes an unexpected turn when she learns that her husband has been cheating on her. The divorce—and the loss of her house to her ex-husband and his much-younger, pregnant new partner—leaves her depressed and unable to write. Her best friend Patti (Sandra Oh), a lesbian who is expecting a child, is beginning to think Frances might never recover. She urges Frances to take an Italian vacation to Tuscany using the ticket she purchased before she became pregnant. At first Frances refuses, but after another depressing day in her gloomy apartment, she decides that it's a good idea to get away for a while.In Tuscany, her tour group stops in the small town of Cortona. After wandering through the charming streets, she notices a posting for a villa for sale in Cortona. She rejoins her tour group on the bus, and just outside of town, the bus stops to allow a flock of sheep to cross the road. While they wait, Frances realizes that they've stopped directly in front of the very villa that she had seen for sale—something she believes is a sign. She asks the driver to stop and she gets off the bus. Through a series of serendipitous events, she becomes the owner of a lovely yet dilapidated villa in beautiful Tuscany.Frances begins her new life with the help of a variety of interesting characters and unusual but gentle souls. She hires a crew of Polish immigrants to renovate the house. Over time, Frances also befriends her Italian neighbors and develops relationships with her Polish workers, the realtor who sold her the villa, and Katherine (Lindsay Duncan), an eccentric aging British actress who evokes the mystery and beauty of an Italian film star.[N 1] Later, she is visited by the now very pregnant Patti, whose partner Grace has left her.Frances meets and has a brief romantic affair with Marcello (Raoul Bova), but their relationship does not last. She is about to give up on happiness when one of her Polish workers, a teenager named Pawel (Pawel Szajda), and a neighbor's young daughter come to her for help. Her father does not approve of him, yet they are very much in love and want to get married. Frances persuades the girl's family to support their love, and the young lovers are soon married at the villa. During the wedding celebration, Frances meets an American writer who is traveling in Tuscany, and their attraction for each other points to a romantic future." (Source: Wikipedia)
The Tuscany villa where the love, tears and
laugh took place
Garden wedding party
Living room. after renovation.
I quite like the un-plastered wall.

Living room turned into a nursery to prepare
for the baby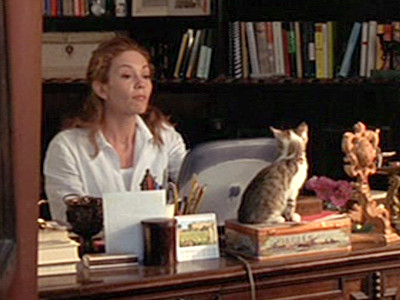 Office room with kitty she adopted from Positano
Frances' pregnant lesbian friend played by Sandra Oh
Frances' rough iron bed with the image of Mary
to whom she found solace at night
Guest bedroom
The only picture of the kitchen I could find on the net
With Marcello, Frances' love interest, in the
beautiful Positano.
Love the white dress!
By the way, in movies they always managed to dress up so beautifully although they traveled with only one small luggage. How on earth did they do that?
Anyway this movie reminds me of the trip my husband and I made to Italy in 2001. Here's our shots in Positano. Please don't laugh..
Black sandy beach on the Amalfi Coast.
My husband and I had a good laugh looking at this.
Looks as if he's wearing a dead animal on his head. LOL!
The movie should still be on youtube (unless this post got crazy hits it attracted the producer's attention who then of course took it down due to copyright infringement).